Academic and Career Planning
Academic and Career Planning, or ACP, is a student-driven, adult-sponsored process in which students create and cultivate their own unique and information-based visions for post-secondary success, obtained through self-exploration, career exploration, and the development of career management and planning skills.
Teaming with our local business and industry partners, our school counselors, teachers, and administrators, will assist all students in using Career Cruising, INSPIRE Dodge County, and other career navigation tools so as to fully experience the four stages of ACP as found below: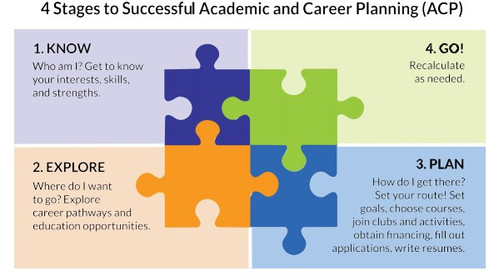 Why ACP?
ACP is intended to equip students and their families with the tools necessary to make the most informed choices about postsecondary education and training as it leads to career options and decisions. ACP is part of the School District of Mayville's and the Wisconsin Department of Public Instruction's overall vision for every student to graduate high school college and career ready. We want our students to be innovative problem solvers and empowered decision makers who not only transform their own lives but the lives of others they work and learn with. Mayville High School graduates will be productive, self sufficient adults with satisfying careers.